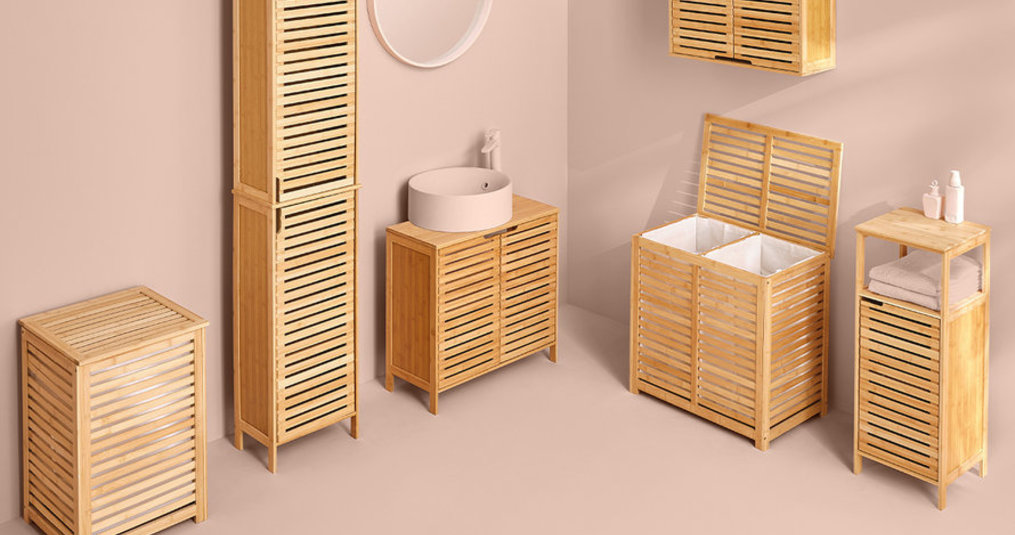 Have you always wanted to give a more natural and soothing look to your home or specific room? Then Koning Bamboe is the ideal place to give your home this feeling!
Here you will find everything you need to create the ultimate atmosphere in your home or room. For this reason we explain you on this page step by step what bamboo has to offer you!

Brief introduction to the amazing world of Bamboo
Bamboo is one of the most sustainable materials for furniture, textiles and other applications. This is because the advantage of bamboo is that it grows incredibly fast and it has a strong structure. In addition, there are also many different species of it found around the world.
Because bamboo grows extremely fast, up to 1 meter per year, and can be grown in several places, bamboo never becomes exhausted. Moreover, bamboo can grow meters high and takes up relatively little space.
Because of this, bamboo can be created constantly and you don't have to wait decades like trees. This makes the use of bamboo considered sustainable.
Hence, bamboo is a fantastic sustainable alternative for furniture with a natural look.
The tremendous growth coupled with the small area needed make bamboo very easy to grow. It also helps that bamboo thus has a strong structure that makes it usable for furniture and textiles.
Enjoy the look of bamboo like this!
Besides the fact that bamboo is thus enormously inexpensive and an excellent material for items in any household, it also has a unique look. Indeed, with bamboo you can provide any space with just a little more nature.
Moreover, with bamboo you can also create an Asian ambiance and put your own spin on the look of a room or the house. In addition, it also gives a very nice and soothing atmosphere.
So if you really like that or find it suits a particular space, bamboo can certainly contribute to that. With bamboo you can create the ideal look and also combine certain styles.
For example, our bamboo products are very different in appearance. For example, we have bedding that you do not necessarily see that it is made of bamboo, but we also have laundry baskets and cabinets made of bamboo that you really see in the design.
This way you decide how bamboo influences the look of your home.
Bamboo for the kitchen and for sustainable cooking
Apart from the fact that we do not have a pan made from bamboo, for explainable reasons, there is a lot you can use from bamboo in your kitchen.
Here at Koning Bamboe you will find cutting boards, cutlery trays, storage shelves and much more. Everything you can think of in terms of kitchen accessories can be found and ordered with us.
This allows you to make your household even more sustainable and at the same time bring high quality products into your home. After all, bamboo is an extremely strong material and is a more than worthy replacement for plastic or wood in the kitchen.
In addition, with bamboo you can also add a twist to the look in the kitchen. You can do this, for example, with a tea box or scale made of bamboo.
For all kitchen accessories made of bamboo you can look at the page for all kinds of fantastic possibilities. In this way you can decide which bamboo products to give a twist to your kitchen!
Everything for the home with bamboo
Also for the household is a huge range of possibilities with bamboo, so you have products to keep your house clean and to change the atmosphere in the house. Of course you can find different products for each room in the house.
Take for example the bathroom where we have toothbrush holders, towels, bathrobes and much more made from bamboo. So there is plenty you can find to outfit your bathroom with the necessary bamboo. Bath textiles in particular are something you can find a lot of here at Koning Bamboe!
Furthermore, you can also find the necessary furniture for the living room. A nice shoe cabinet made of bamboo or a laundry basket for the laundry room are possible pieces for in the house.
With these, you create this more natural look with bamboo while at the same time having excellent acquisitions for furniture. This is because furniture pieces made from bamboo are not only beautifully constructed, but are also extremely durable.
Natural care with Bamboo
Bamboo is a natural product with some great properties. For example, bamboo is also great for personal care. There are natural shampoos and masks, as well as towels, washcloths and even razors.
In short, there is a little bit of everything. Especially because of its many health benefits, bamboo is an excellent raw material. In fact, care products containing bamboo contain healing properties.
In fact, bamboo works well for cartilage and works against joint pain. In addition, bamboo is also a remedy that supports hair growth and nail growth. This is all thanks to the high silicon content present in bamboo.
This is because silicon is good for the joints and thus helps with the growth of hair, among other things. Because of this, many health products contain bamboo and at Koning Bamboe you will find products made from bamboo.
Even clothing made from bamboo!
If you thought you had seen everything about bamboo, you are still a little disappointed. In fact, there is also clothing made from bamboo and it has many fantastic benefits. For both men and women there is an awful lot of choice of garments.
Moreover, clothing made from bamboo is up to 60% better at absorbing moisture compared to cotton, for example. Also, bamboo is a finer material for the skin and you experience less skin irritation with clothing made from bamboo.
Furthermore, many people describe bamboo as a fine, soft and supple fabric which therefore also makes it pleasant to wear. Combined with the many possibilities for different garments, bamboo is again a great option.
You can find bamboo socks, T-shirts, underwear, dresses, leggings and much more!
So with bamboo you can go in any direction and provide your home with the most sustainable and natural items. So are you looking for items that can give a twist to the look of your home? Look further on Koning Bamboe and discover everything in the field of bamboo!