Natural Wicker Rattan armchair for a beautiful look
If you are looking for a unique wicker rattan armchair, then you have come to the right place at Koning Bamboe.
-15% Sale

319,- € 269,95

-15% Sale

319,- € 269,95

€ 119,95

-20% Sale

99,95 € 79,95

-26% Sale

94,49 € 69,95

-25% Sale

159,95 € 119,95

€ 149,95

A tree for every order
Free shipping in NL & BE
Specialists in bamboo products

€ 189,95

€ 169,95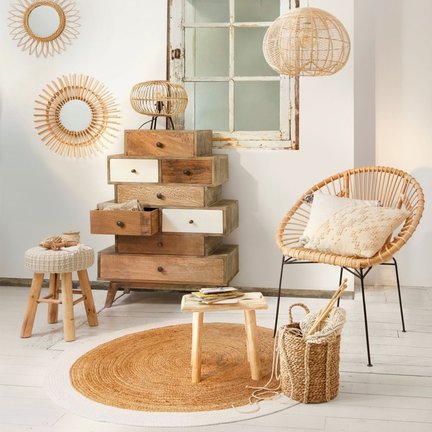 Discover the ultimate in comfort and style with our armchairs. An armchair is not only a perfect addition to your interior, but also offers countless benefits for you to enjoy.
Luxurious comfort: Our armchairs are designed with maximum comfort in mind. With soft upholstery and ergonomically shaped seats you can relax and enjoy an optimal seating experience.
Stylish design: Our armchairs are available in various styles, from classic to modern, so that you can always find an armchair that perfectly matches your interior. With high-quality materials and refined finishes, our armchairs bring a touch of elegance and style to any room.
Wide choice: With us you will find a wide range of armchairs to meet your specific needs. From armchairs with a high back for extra support to armchairs with reclining features such as an adjustable backrest or footrest, you can choose the armchair that best suits your needs.
Functional versatility: In addition to providing comfortable seating, armchairs can also serve as a versatile piece of furniture. Use them as a reading chair in your study, a relaxation spot in the living room or as a statement piece in your bedroom.
Relaxation and wellness: An armchair is the perfect place to relax after a long day. Whether you want to read, watch TV or just relax, the comfortable seat and supportive armrests of our armchairs provide an oasis of calm and relaxation.
Invest in an armchair and experience for yourself the many benefits it has to offer. View our range and choose the armchair that suits your style and needs. Transform your living space with comfort, style and functionality with our beautiful armchairs. Order today and enjoy the ultimate lounging experience in your own home.
Read more
Close