Bamboo socks
Affordable top quality bamboo socks can be purchased at Koning Bamboe. Due to the high quality of the bamboo fibers, you can enjoy super soft seamless bamboo socks for an extra long time.
-20% Sale

14,95 € 11,95

-20% Sale

14,95 € 11,95

-40% Sale

24,95 € 14,95

-40% Sale

24,95 € 14,95

-43% Sale

27,95 € 15,95

A tree for every order
Free shipping in NL & BE
Specialists in bamboo products

-43% Sale

27,95 € 15,95

-43% Sale

27,95 € 15,95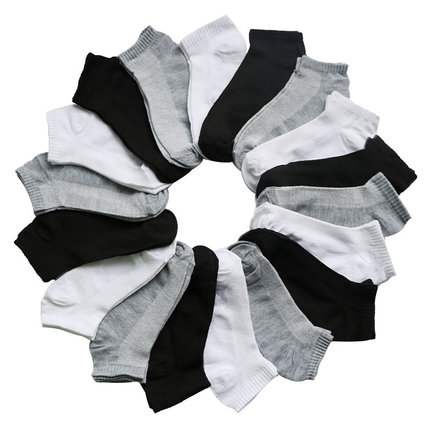 Bamboo socks
Comfortable socks are a must for your feet and preferably you have them as soft as possible. Bamboo socks are ideal for you! Our socks have a unisex fit and are therefore suitable for both men and women.
Curious about the advantages of our bamboo socks?
Silky soft and therefore less chance of blisters.
Cool in summer, warm in winter.
Longer fresh and dry feet.
Great for sensitive/allergic skin.
Great fit, no noticeable toe seam.
Environmentally friendly.
Our bamboo socks, just like our underwear, are extremely comfortable. You only want the best for your feet, right?
Bamboo socks men
Socks with a good fit are important, also for a man. Bamboo sneaker socks for example are great when you don't want the socks to be visible when wearing low shoes. Our bamboo socks are sturdy and do not fall off.
Bamboo socks ladies
Super soft socks that don't slip, that are the ideal bamboo socks for women. Extra nice, our socks have no tangible toe seam. So you have no bother with annoying seams!
Basic design
Our bamboo basics collection is extended with different bamboo socks, such as long socks and sneaker socks / ankle socks. The socks have a basic design, but with a surprise colorful detail on the inside! The collection consists of different color sets.
Read more
Close