Bamboo Cooking & Dining: more than just cooking utensils !
In our online store you will find besides the bamboo nicest, newest and most convenient cooking utensils, also everything for a tastefully decorated table, the most delicious delicacies.
-43% Sale

34,95 € 19,95

-28% Sale

24,95 € 17,95

€ 37,95

0% Sale

34,95 € 34,95

A tree for every order
Free shipping in NL & BE
Specialists in bamboo products

-23% Sale

29,95 € 22,95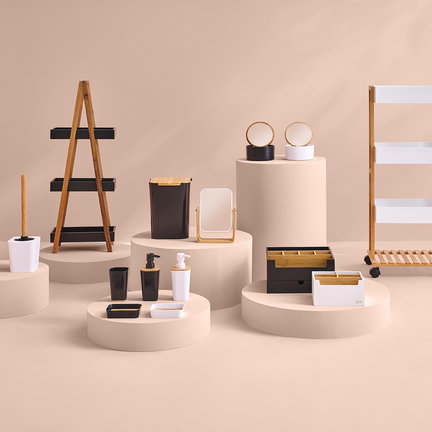 Everything from bamboo for the kitchen
Are you now looking for kitchen items and want something that fits an eco-friendly kitchen? How about kitchen items made from bamboo! There are plenty of nice items and bamboo is an increasingly popular concept for products in the home. So maybe also something for your kitchen?
Would you like to know exactly what you can expect from bamboo in the kitchen? Stay a while and discover all the facts about bamboo kitchen items and the items themselves.
Discover all about bamboo in your kitchen
Besides the fact that bamboo has a natural look that exudes peace and tranquility, it is also a sustainable material. Bamboo has a very low ecological footprint due to the economical production process and growth of the plant itself.
Sustainable
Due to the exponential growth of the bamboo plant, it is possible to grow bamboo without artificial or chemical substances. As a result, bamboo production is very high and bamboo plants remain in good condition. Thus, bamboo plants are not depleted and are incredibly environmentally friendly.
Quality
Bamboo is a fairly sturdy and hard-wearing material. This makes it suitable for kitchen items. For example, with bamboo a cutting board is not only durable but also of high quality and lasts longer. Bamboo lasts a long time and as long as you maintain the items well, there is nothing to worry about.
Fine appearance
With bamboo you get a natural product in the house. When it is processed in your kitchen items you have this look in your kitchen. Natural products can mimic the look of nature a bit.
This ensures that there is a peaceful and nice look. After all, we humans consciously and unconsciously love to be in nature and with bamboo you bring nature into your home. A nice side effect of the bamboo kitchen items is the peace and tranquility. For example, a bamboo soap dispenser can already provide relaxation and an improved look.
Bamboo in your kitchen, what can you expect?
There are many possible forms of bamboo kitchen items, for example nowadays you have entire kitchens made of bamboo. In addition, you just cutting boards, capsule holders, soap dispenser, storage racks and much more made of bamboo.
We from Koning Bamboe have a wide range of kitchen items from bamboo. In our shop you can find all the above products and more. We also have kitchen paper made from bamboo.
Because this is sustainable kitchen paper you do not have to worry about the number of trees that are cut down for your roll. In addition, the kitchen paper works very well and in some cases you can use it more often.
Besides kitchen items we also have a lot in the field of clothing, interior and household.
So you want to be sustainable and enjoy the many benefits of bamboo? Look in our shop for the best and most useful bamboo kitchen items! You can be one of the first to start this sustainable and fun trend with us.
Read more
Close