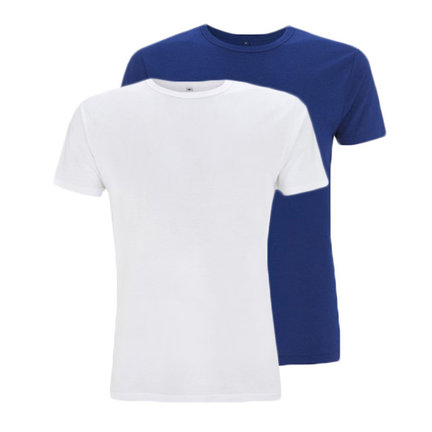 Bamboo Men's T-shirts
I'm sure every man woman agrees, nothing is more annoying than foul odors lingering in your shirt. With a bamboo T-shirt you don't have to worry about this! Bamboo absorbs up to 70% more moisture than cotton, because the micro holes in the bamboo fiber quickly adsorb moisture and evaporate. In addition, bamboo is hypoallergenic, ideal when you have sensitive skin or suffer from allergies!
ADVANTAGES OF BAMBOO CLOTHING
In 2001, Peking University discovered how to make textiles from bamboo. Whether this is the discovery of the century remains to be seen but it is an understatement to say that bamboo clothing is becoming more popular every year. Bamboo has many unique properties that make bamboo clothing have many advantages. We have listed the most important benefits for you.

1. LONG-LASTING FRESHNESS
Let's start with the absorbency of the bamboo fiber. Because of the micro holes in the fiber, bamboo ventilates very well. It absorbs moisture even three times better than cotton does! This is why you stay fresh and dry for much longer than is normally the case. Bamboo also wicks away moisture quickly. Who doesn't want to feel fresh for longer?
2. BAMBOO FEELS WONDERFULLY SOFT
The smooth round structure of the bamboo fiber is an important characteristic, as is its absorbency. This structure has no sharp points that can irritate the skin. This structure has the advantage that bamboo clothing feels wonderfully soft. Undergarments should be comfortable and that is what Bamigo tries to respond to by using bamboo.
3. WRINKLE FREE WITHOUT IRONING
The round smooth structure of bamboo clothing is another advantage. The structure ensures that there is less resistance. Therefore bamboo wrinkles naturally less. You can therefore hit the streets without ironing.
4. GOOD FOR THE SKIN
Bamboo fibres also have a unique antibacterial effect that helps to fight bacteria. This makes bamboo clothing ideal for people with sensitive skin. The skin becomes calmer when wearing antibacterial clothing. People with skin conditions such as eczema benefit the most from this.
This is not all. Bamboo has even more benefits for you and for the environment. Would you like to know everything, but really everything, about bamboo clothing? Check out our e-book "Bamboo: the textile of the future" for free.
Read more
Close