Modern bamboo lamps
Are you looking for a new light fixture in your home? Then bamboo lamps are a good idea. Bamboo lamps are decorative and ecological for the world. The light sources add a natural atmosphere to your home without drawing attention to themselves.
-33% Sale

59,95 € 39,95

A tree for every order
Free shipping in NL & BE
New items every week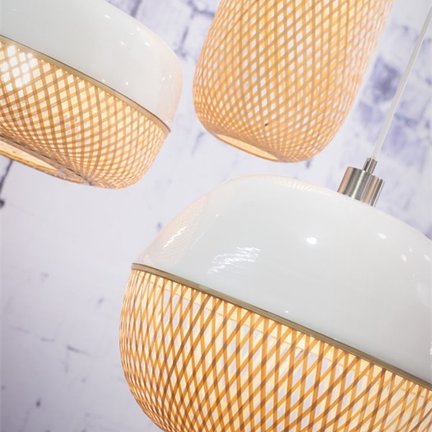 Durable bamboo lamps
Bamboo lamps give your interior a warm and rural cachet. Bamboo lighting is suitable for any room in your home. Thanks to this type of lighting you create a bit of an exotic effect. As if you were turning your own home into a lodge.
Bamboo is easy to work into shapes
Using bamboo for lighting fixtures has many advantages. The material is light and easy to fold. This material can be easily processed through steam. In addition, bamboo grows easily in nature.
Fixtures made of bamboo are a treat for the eyes. These green lamps add real value to your interior. The layered construction creates basket-shaped patterns that give a playful lighting effect. This type of lighting is a beautiful blend of nature and culture.
The lighting effect of bamboo lighting is playful and elegant
With bamboo lamps you create a natural and rustic effect in your living room, bedroom or kitchen. Spherical or funnel-shaped fixtures? It's all possible. And the light effect is always very beautiful. Through the openings between the sticks you get an elegant and playful effect of light and shadow. Bamboo lamps are therefore a must have if you want to create a warm and cosy interior.
Bamboo lamps is a broad concept. There are floor and table lamps, ceiling and wall lamps. Thanks to the see-through effect, they are perfect in living rooms, dining rooms and bedrooms. They create a light and airy look. If you paint your home in warm and natural colors, the light from these fixtures will give an enhancing effect to these hues.
For a rural and rustic interior
So is this type of lighting especially suited to rustic interiors? There bamboo lamps are certainly beautiful, but also in a modern, sleek environment a bamboo fixture gives a nice added value.
Bamboo lamps are ideal for making your interior pleasant and airy. The versatility and the calm, cohesive look are enticing. The atmospheric glow warms you up completely, both at dusk in autumn and on really dark winter nights. In addition to fixtures, there are also floor lamps and tripods. These are always elegant and have a kind of architectural look, looking like a kind of light tower.
Read more
Close