A sustainable household with Bamboo
King Bamboo's vision is to reduce plastic consumption in every household. We want to achieve this by replacing everyday utensils with environmentally friendly and sustainable alternatives.
-25% Sale

79,95 € 59,95

-33% Sale

59,95 € 39,95

€ 69,95

-24% Sale

64,95 € 49,49

-45% Sale

89,95 € 49,49

-33% Sale

119,95 € 79,95

-20% Sale

99,95 € 79,95

A tree for every order
Free shipping in NL & BE
Specialists in bamboo products

-9% Sale

54,95 € 49,95

-29% Sale

69,95 € 49,95

-24% Sale

34,95 € 26,39

-19% Sale

42,95 € 34,95

-14% Sale

34,95 € 29,95

-13% Sale

54,95 € 47,95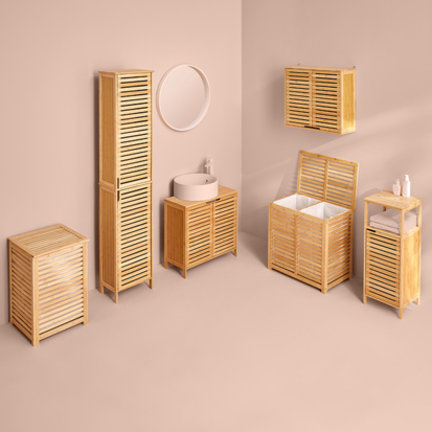 A sustainable household with Bamboo
Perhaps you are working on a sustainable household and looking for nice items? With bamboo have 2 birds with 1 stone. Bamboo is one of the most sustainable materials and has beautiful properties. Of course you have to love it, but for most people that's no problem.
So do you want to see a sustainable household products made of bamboo? Then we have a wide range of different products here at Koningbamboe
The advantage of bamboo in your household
Sustainability
Of course bamboo is quite durable. This is because the bamboo plant requires little soil, grows a lot and no pesticides or chemical fertilizers are used in its cultivation.
In addition, many household items are made of plastic or plastics and these are quite environmentally damaging materials. By replacing these with bamboo, you are already a lot more sustainable and you don't have to feel guilty about a tree with a household product made of wood.
Comfortable
Besides that bamboo is very durable, there are more advantages. Bamboo is very comfortable, this is due to the structure. For example, it has a soft structure and is more pleasant to use.
Solid base
What is also very advantageous is the solid base of the bamboo. Because bamboo is quite solid you do not have to worry about the fragility of the items. In addition, it all looks and feels light, but you can therefore count on a solid article.
Appearance
The last and the biggest advantage, in our opinion, is the appearance. The look of bamboo is very soothing and also gives you the feeling of being a little bit in nature. Bamboo adds a nice twist to any household!
Why you should have bamboo in your household
We just briefly discussed the benefits and bamboo is also becoming increasingly popular. There is very little to like about bamboo and the only thing you need to pay attention to is maintenance.
However, bamboo does give a whole twist to the look of a home. With beautiful home accessories made from bamboo, you feel like you're stepping into nature a little bit. And many studies show that we humans feel safe and calmer in it anyway. Not only does it look nice, but it also gives a good feeling.
What there is to find of bamboo for your household
We at Koning Bamboe are completely at home in the world of bamboo. We have a lot of special and fun products made from bamboo for your household. So you can find a shoe rack, wine rack, laundry baskets, shelves, baskets, more and all from bamboo.
Always wanted a beautiful wine rack? Why not a wine rack made of bamboo.  
Do you now also want a more durable and fine household items made of bamboo? Then check out our webshop for the very nicest items and give a pleasant twist to your household!


Read more
Close