Super soft bamboo pillows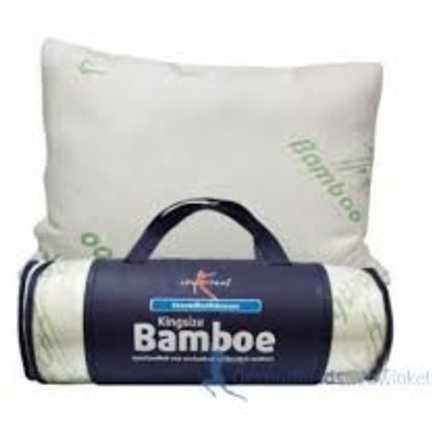 4 reasons why you should go for bamboo pillow
Fluffy hair, dry skin and allergies. All annoying, right? Believe it or not, your pillow can contribute to all these annoying problems. Are you sleeping on a cotton pillowcase? Then it's time for an upgrade.
So who will benefit the most from switching to a bamboo pillowcase?
PEOPLE WITH ALLERGIES
Bamboo and silk pillowcases are hypoallergenic. As a result, they are unlikely to cause an allergic reaction. They also prevent an increase in dust mites in your pillow. Dust mite allergy is a common allergy, therefore bamboo and silk pillowcases are a good choice for allergy sufferers.
PEOPLE WITH DRY SKIN
Since bamboo and silk pillowcases absorb less moisture, your skin stays better hydrated at night. Therefore, for people with dry skin, they are better than a cotton pillowcase.
PEOPLE WITH SENSITIVE SKIN
Bamboo pillowcases and silk pillowcases have a smooth surface, which means less friction with your skin and hair at night. Less friction means less inflammation, good news for anyone with sensitive skin.
PEOPLE WITH CURLY, WAVY OR DAMAGED HAIR
Do you have any of the above hair types? Then you know that fighting frizzy hair is no fun. By swapping your cotton pillowcase for a bamboo, satin or silk pillowcase, you can greatly improve the appearance of your hair. Not just in the morning, but throughout the day. Using a bamboo pillowcase can actually improve the long-term health of your hair!
WHAT ARE THE BENEFITS TO YOUR HAIR?
So how can a bamboo pillowcase or silk pillowcase provide benefits for your hair?
Bamboo and silk pillowcases have a soft, smooth texture that is ideal for reducing frizzy hair. Cotton pillowcases create too much friction with the hair, which opens up the hair scales and causes your hair to frizz and tangle in the morning. Bamboo and silk pillowcases, on the other hand, are completely smooth, allowing your hair to glide across the pillow without any friction. The reduced friction means your hairstyle will last longer and you're less likely to have frizzy hair.
Bamboo and silk pillowcases are also perfect for people with damaged, curly or wavy hair. These hair types tend more towards dry hair and a cotton pillowcase will only exacerbate this problem. A bamboo pillowcase or a silk pillowcase will not draw moisture from your hair, so you will wake up to well-hydrated locks. As I'm sure you already know, hydration is the key to healthy, strong hair!
Read more
Close