Living with bamboo home accessories
They are not called the 'finishing touch' for nothing: with living room accessories you make your house a home! Home accessories are important for the atmosphere and style of your interior. From modern lamps and clocks to trays
-23% Sale

64,95 € 49,95

-33% Sale

59,95 € 39,95

-25% Sale

79,95 € 59,95

-24% Sale

64,95 € 49,49

€ 149,95

A tree for every order
Free shipping in NL & BE
Specialists in bamboo products

-45% Sale

89,95 € 49,49

-33% Sale

119,95 € 79,95

-20% Sale

99,95 € 79,95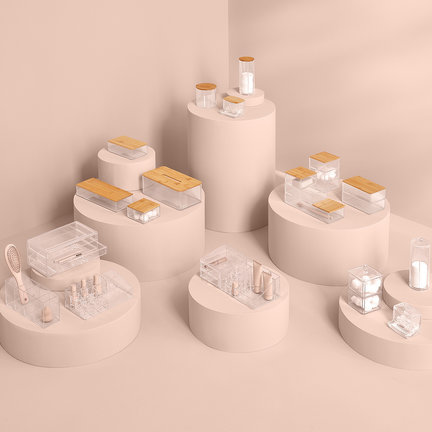 Living with bamboo home accessories
Are you still looking for a piece of furniture for the bathroom, living room or kitchen? Maybe home accessories made from bamboo is something for you! These home accessories have a totally different look than an "ordinary" piece of furniture. In this article we tell you all about these home accessories made from bamboo and we also have plenty of nice articles that you can admire!
The power of bamboo in your home
Bamboo has been gaining popularity lately. This is partly because it is a very sustainable material and contributes almost nothing to the pollution of the world.
This plant generally grows very quickly, about 1 meter per year, and requires very little soil. Also, no artificial or chemical fertilizers are used for the growth of bamboo so the soil is not depleted either.
In addition, it is much better than using plastic. Of course, there is also wood which is an organic material, but trees are cut down for that and it takes very longer to grow back.
Actually, bamboo is the perfect solution for a sustainable interior. It is very environmentally friendly and is a better alternative than many other materials. In addition, of course, it is also just very beautiful.
Why bamboo home accessories in your home?
Now that we have already looked at the power of bamboo, it is nice to know what you have in bamboo. Bamboo is a material that is very light and flexible. It can be used for almost everything.
In addition, bamboo has a nice appearance that gives you the feeling that you have a piece of nature in your home. This gives many people a relaxed feeling and it also looks cheerful.
What should you pay attention to?
Incidentally, you can do anything you want with bamboo, from painting to varnishing and even sanding. However, it is good to know that bamboo can warp when there is a lot of water. Mold is hardly ever seen, but make sure you do not splash water on your bamboo home accessories. Then prevent unnecessary damage.  
For the maintenance of bamboo you can use natural oils. This ensures that the bamboo remains in the best condition and when you do this regularly it prevents a lot of sanding and repair work.
Beautiful home accessories for your home
After reading this article you are fully informed about bamboo and bamboo in your home. Perhaps you're completely over or you're excited about the home accessories from bamboo. Fortunately for you, you do not have to go all the way to search.
We from Bamboo King have a wide range of nice home accessories made from bamboo. So we have lamps, drying racks, wine racks, baskets and much more.
Would you like your own home accessories from bamboo? Take a look at our webshop and who knows, there might be something for you! We have many more articles and all made from bamboo.
Read more
Close