Sustainable bamboo shoe cabinets for sale at Koning Bamboe
Are you looking for a sustainable solution to neatly store your shoes? Then take a look at the bamboo shoe cabinets from Koning Bamboe. These cabinets are not only stylish, but also very practical and durable. Bamboo is a strong material that does not dam
-23% Sale

64,95 € 49,95

-10% Sale

99,95 € 89,95

€ 39,95

-20% Sale

99,95 € 79,95

-25% Sale

59,95 € 44,95

A tree for every order
Free shipping in NL & BE
New items every week

€ 39,95

-30% Sale

99,95 € 69,95

-31% Sale

129,95 € 89,95

-30% Sale

49,95 € 34,95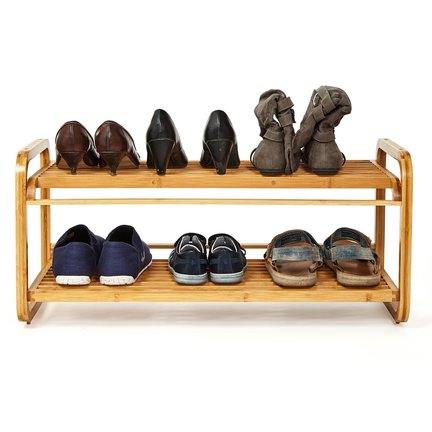 A tidy hall is a nice entry point for you and your guests. But how do you get all your family's shoes neatly organized? A shoe rack offers a solution and a bamboo shoe rack is not only practical, but also durable and stylish.
Sustainability of bamboo
Bamboo is one of the fastest growing plants in the world and therefore has a very small ecological footprint. The material is also sturdy and lasts a long time, making bamboo shoe racks a sustainable solution. They are also often easy to maintain and clean.
Stylish appearance
A bamboo shoe rack often has a natural look and therefore fits well in different interior styles. From rural to modern and from industrial to Scandinavian: a bamboo shoe rack can be used in many interiors. There are also different models available, from a small rack for a few pairs of shoes to a large rack with several layers for an entire shoe collection.
Practical use
A bamboo shoe rack is not only beautiful to look at, but also practical to use. It offers space for shoes that would otherwise be lying around in the hall and therefore provides a better overview and peace of mind. Moreover, there are often several layers on which shoes can be placed, which saves you a lot of space. And because the material is light, you can easily move the rack if necessary.
Conclusion
A bamboo shoe rack therefore not only offers practical benefits, but is also durable and stylish. It is a beautiful and responsible solution to neatly store your family's shoes. Whether you go for a small or large bamboo shoe rack, it will certainly contribute to a tidy hall and a nice home feeling.
Read more
Close