Looking for a folding screen? View our collection of room dividers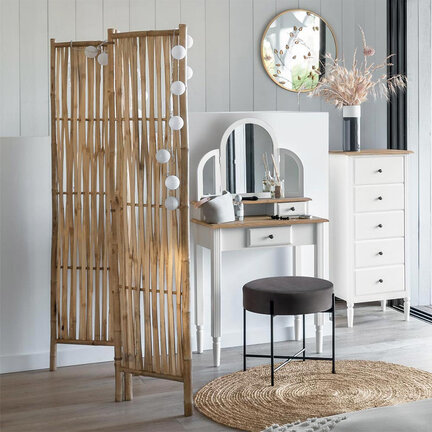 Discover the versatile collection of folding screens from Koning Bamboe - the specialist in high-quality bamboo furniture. With our beautiful folding screens you not only add style and elegance to your interior, but you also enjoy privacy and functionality.
Our folding screens are made of sustainable bamboo, a natural material known for its strength and environmentally friendly properties. With different designs, such as braided panels or decorative patterns, we offer a wide choice to suit your individual taste and interior style.
Whether you want to divide an open space, create a cozy corner or add a decorative accent, our room dividers offer the perfect solution. With their flexibility, you can easily move them around and adjust them to suit your needs.
King Bamboo guarantees quality and craftsmanship. Our room dividers are carefully designed and made with an eye for detail. They are not only functional, but also a beautiful addition to your interior.
Enjoy the beauty and versatility of bamboo with our room dividers. View our collection and discover how these pieces of furniture transform your home with their natural charm and timeless look.
Read more
Close