Luxury bamboo comforter covers
Bamboo is a relatively new product for such things as clothing and for filling a comforter. It is logical to wonder whether the purchase of a bamboo
€ 124,95

A tree for every order
Free shipping in NL & BE
New items every week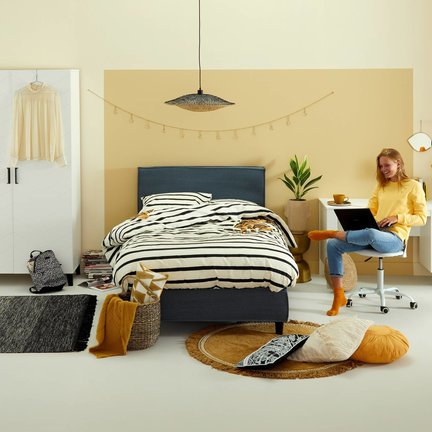 Luxury Bamboo Duvet Covers with a soft touch
Bamboo is a relatively new product for, for example, clothing and for the filling of a comforter. It is logical that you wonder whether buying a bamboo comforter is the right choice or not. We would like to compare bamboo with cotton comforters.
Characteristics bamboo pillow, comforter and bedding
Naturally hypoallergenic, therefore suitable for asthma and house dust mite allergy
Hygienic: antibacterial and prevents spread and growth of bacteria in the comforter. This means that odours have no chance
Grown with little water consumption and without pesticides
Bamboo absorbs three times more moisture than cotton 
Therefore, a bamboo comforter is very suitable for women in the transition and people who suffer from heat and night sweats
Bamboo gives a pleasant dry feeling and is breathable
Bamboo is a very smooth fiber and therefore suitable for sensitive skin
Bamboo is a heat regulator: when it gets hot you will be about 2-3 degrees cooler than the ambient temperature. In cold you are about 2-3 degrees warmer
Bamboo as used for the comforters is grown on landscaped fields. This is therefore not the bamboo that the Panda eats. 
Bamboo versus cotton
Bamboo wins on almost all fronts over cotton. Bamboo has a beautiful quality, is inexpensive and is lighter and airier than cotton. Bamboo also dries much faster than cotton.
Read more
Close