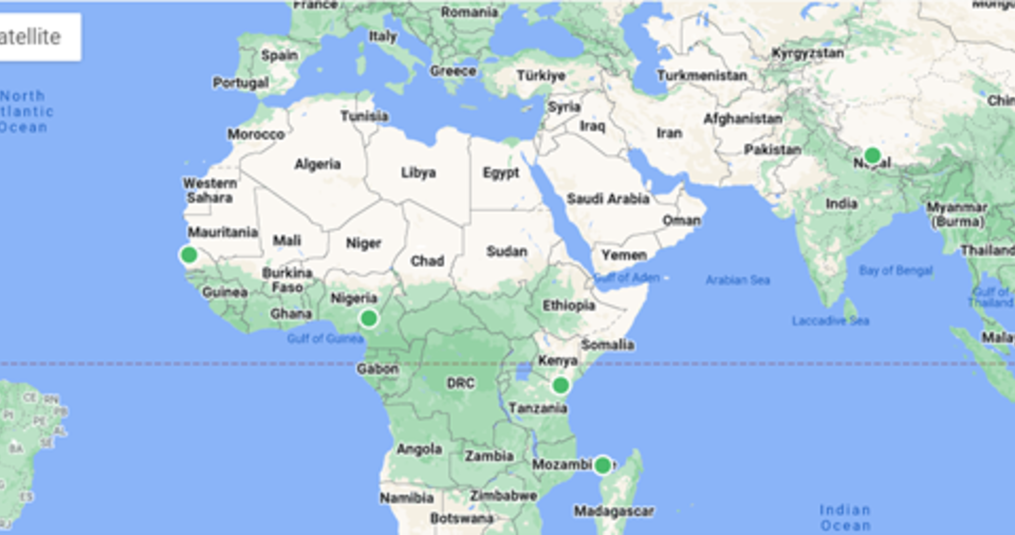 At Koning Bamboe you can personally contribute to a better environment and you don't have to do anything
extra for it! For every order you place, we plant a tree.
a tree. This way you contribute to a better environment while ordering your ideal sustainable
bamboo products ordered!
Make an extra contribution to a healthier environment with Bamboo!
How it works.
In partnership with Tree-Nation, we at KoningBamboe ensure that a new tree is planted with every order. By planting this tree, we do our best to offset the CO emissions we produce.
The beauty of this is that you can contribute to a healthier environment anywhere in the world and all you have to do is place an order. Once you have placed an order, Tree-Nation gets to work planting your personal tree.
In the end, you will receive a nice overview online on the Tree-Nation site, which you can view at any time.
A tree by name, how cool is that!
In addition to having a tree planted, it will also be registered in your name. Every customer who places an order gets his/her own tree. Through Tree-Nation's site, you can then find proof of your tree.
You can also find all kinds of interesting data about the tree via the link above. You can see where the tree will grow, what the environmental impact will be and what kind of tree it is.
All kinds of data, including your name, can be found on the site. Of course, you can also choose to have the tree put on someone else's name. But in any case, somewhere in the world you will have a tree in your name!
Our goal with this action
Of course we hope to spare the environment a bit through this action. We also hope that we can inspire or motivate people to contribute to a healthier environment.
All in all, we want to contribute to the environment and the people in the areas where the trees are planted. So in this way we hope to contribute to a "better" world.
The positive impact of Koning Bamboe and Tree-Nation
Every year we all emit quite a lot of CO2, so the average Dutch person emits about 10 tons of CO2. We at KoningBamboe offset these emissions for the entire team.
In addition, through this fantastic collaboration with Tree-Nation, we are also able to compensate for the CO2 emissions resulting from transport, production and use of our products.
Would you like to make an extra personal contribution to the environment? You can do so through Tree-Nation! On the website you will find multiple ways to have more trees planted in your name.
You can have your whole family, a club or just yourself plant a number of trees. If you are curious about this and want to know how you can go about it, you can find out exactly how and what via this link!
Supporting the local population
By planting the trees, we obviously hope that the world will become a little greener. Fortunately, that is not the only thing we want to achieve with this action. We also want to contribute to a better environment and living conditions for the local population.
Thanks to the planting of the trees, the area where the tree is planted also becomes more livable and more natural resources are created. This makes it possible for the population to start living from agriculture again.
An additional benefit is the increase in animal species, they can now start living in this green area again.
By the way, the places where these trees are planted are: Madagascar, Cameroon, Nepal, Tanzania and Senegal. So you know in which area your personal tree can end up.
The result so far
We mentioned earlier that we at Koning Bamboe have been working on this Tree Nation project for some time. For example, we have managed to offset our own team's carbon footprint by planting trees.
In addition, we are currently placing a tree for every order, so we can offset production, delivery and use of our products. This year alone we were able to offset 36.19 t of CO2 with tree placement!

The counter for the number of trees placed in 2022 stands at 3119. This is in collaboration with 5Five and Good & Mojo, these organizations, like us, contribute to a greener environment.
This action allows us to continue to provide you with amazing bamboo products with a good heart and contributes to our green thoughts. Moreover, we hope to plant even more trees in 2023, making the world a more beautiful place!
Participate in this action?
To participate in this promotion and thus have your own tree planted, simply place an order here at Koning Bamboe . By placing an order we will ensure that a tree is automatically planted in your name.
Of course, you can also check out Tree Nation's site to see what the options are for placing a tree. However, if you also want to order something from us or simply and quickly contribute to this initiative? Then you can place an order with us and you will also receive a sustainable, fun and high-quality product!
Do you also want to contribute to a greener world? Then just like more than 200,000 visitors before you, check out our bamboo products or support one of our partners directly!