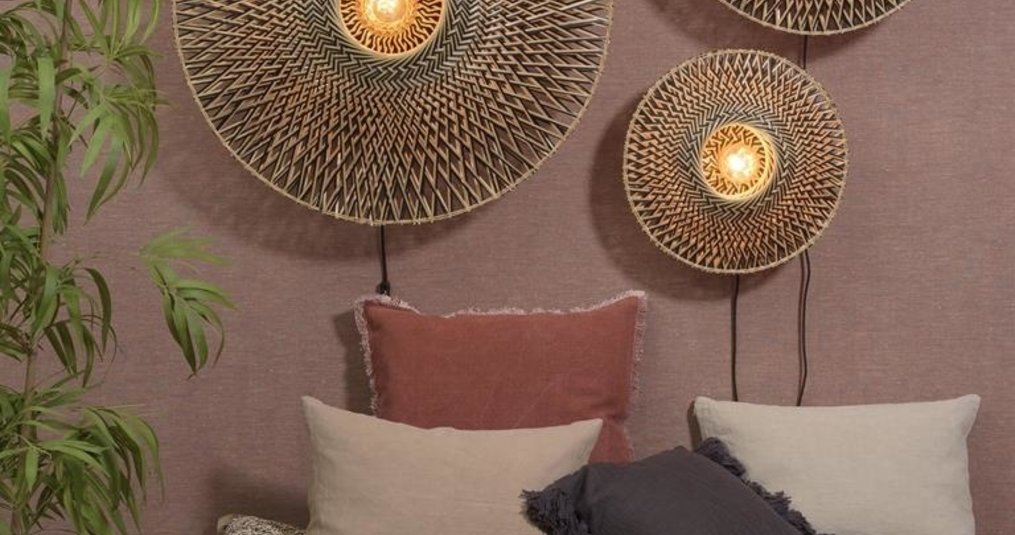 Nowadays, our awareness of sustainable shopping is growing and we are increasingly wanting to know how to buy eco-friendly products. A great example of this is to choose sustainable light bulbs. By choosing a lamp made of sustainable materials, you make an environmentally friendly choice that is not only good for the environment, but also fits beautifully into your interior. Sustainable lamps nowadays come in different shapes, sizes and styles, so there is a suitable option for every interior. If you are looking for a new lamp and you value sustainability, let yourself be inspired by the beautiful lamps that we highlight in this article.
Bring nature into your home with our bamboo lamps.
If you're looking for a way to bring nature into your home while being environmentally conscious, bamboo pendant lights are a great option to consider. Bamboo is a sustainable material that grows quickly and is highly renewable. By using it for decorative lamps, you not only add a stylish touch to your home, but you also contribute to a healthier planet.
Bamboo hanging lamps are available in different styles and shapes. Whether you are looking for a modern, minimalist lamp or a more traditional-looking lamp, there is always a bamboo pendant lamp that suits your style. You can also choose from different colors, so you can find the perfect lamp that matches the colors of your interior.
Bamboo hanging lamps are not only beautiful to look at, they also offer practical benefits. Bamboo is a lightweight material, which makes the lamps easy to move. In addition, bamboo is durable and sturdy, so that the lamps last a long time. This means you are investing in a product that is not only good for the planet, but also saves money in the long run.
In short, if you are looking for a way to bring nature into your home and be sustainable at the same time, then bamboo hanging lamps are definitely worth considering. With their stylish look and practical benefits, bamboo pendant lights are the perfect choice for people looking for an ecologically responsible way to illuminate their home.
Use of sustainable lighting
Whether you are looking for lighting for your living room, bedroom or conservatory, the big advantage of sustainable lighting is that it is timeless. Just like a beautiful rattan chair that will last for years and will always match the interior. These lamps even last from generation to generation. If you want to use the lamps under a roof, for example, you have to take into account that you bring them inside in the winter. It can also happen that bamboo or rattan will age over time, a natural process that unfortunately cannot be prevented. But with a bamboo lacquer you can give the lamps a fresh and new look. It is recommended to repeat this annually to continue to enjoy the beautiful natural appearance of the lamps.
Difference between rattan and bamboo
The main difference between bamboo and rattan is the structure of the material. Bamboo is hollow inside, while rattan has a solid core. Rattan grows in the tropical rainforests and is a hard type of liana. Cane and rattan are sometimes confused, but cane is actually an aquatic plant and not suitable for making furniture. Bamboo, on the other hand, is a type of grass that gets a nice warm color after drying. Another difference is that bamboo is lighter than rattan. However, both materials are durable and suitable for use in furniture and lamps.
Smart Lamps.
Smart lamps are smart lighting solutions that are becoming increasingly popular in modern households. These lamps are connected to the internet and can be controlled via an app or voice assistant. With these smart functions you can, for example, dim the lighting, change the color temperature and set time schedules. This means that you can adjust the lighting in your home to your preferences and needs from your phone, tablet or voice command. In addition, smart lights can also be linked to other smart devices, such as smart thermostats and security cameras, to create an integrated and easy-to-use system. The trend of smart bulbs will only grow in 2022 and it will be interesting to see how this technology continues to evolve and improve our lives at home.
Feel free to take a look at our shop!
In addition to our beautiful collection of bamboo lamps, Koning Bamboe also offers more than 800 other bamboo products. Whether you are looking for a bamboo fence or a stylish bamboo cabinet, we have a solution for almost every wish. Are you looking for inspiration? Then take a look at our extensive webshop and be surprised by our diverse range.